Frequently Asked Questions/Policy (including but not limited to)
Q:  How much track time will I have per event?
A: Our Autobahn, Blackhawk Farms, GingerMan Raceway and Putnam Park track time events are scheduled for seven (7) 20-minute lap sessions per group! However, please understand while generally rare, mechanical failure (ex: oil leak) and/or incidents (ex: towing for 4 wheels off track) may occur and result in shortened sessions.  Given the unpredictable nature of such events, GPS Track Time cannot be held responsible if and when they occur resulting in less track time.
Q:  How many drive groups are there and how are participants placed?
A:  There are 3 groups (Novice, Intermediate and Advanced) and drivers are assigned to groups based on track time education and experience.
Q:  When can I find out which group I have been assigned to?
A:  You may email GPStracktime@gmail.com for a tentative drive group assignment.
Q:  Is there an age requirement for the drivers at the event?
A:  All drivers must be 18 years of age to register for the event.
Q:  What kind of cars may I drive?
A:  You may drive virtually any sedan, coupe, hatchback, station wagon or convertible in good condition.Typical cars at non-competitive track time events include hot hatches (ex: Civic EK9, Golf GTI), sport coupes/sedans (ex: Corvette/M5), and exotics (ex: 458 Italia/911 Turbo).  Convertibles are allowed only with approved roll bar. Unfortunately, SUVs and trucks (ex: Grand Cherokee and F-150) are not allowed due to its higher rollover risk.
Q:  Can I share my car with another participant?
A:   Yes, another participant may drive your car for an additional $50 fee. Please note that the shared car must be in the same drive group. Further, the car will be assigned to the less experienced driver's group.
Q: Can I have a passenger with me in my car?
A: Advanced and intermediate drivers may have a passenger with them. However, passengers must be 18 years or older, properly secured and register with the driver. A proper helmet will also be necessary (see below).
Q:  Will I need a helmet to participate?
A:   Yes, you will need a Snell SA rated helmet, SA2015 or SA2020. Please look for the label inside your helmet (you will not be able to participate without it!) Please note that bike helmets are M rated and not allowed.

The Autobahn Country Club has 20 helmets of various sizes available for rent for $30. Blackhawk Farms has 7 helmets of various sizes for the same price.
Q:  What is GPS data acquisition?
A:  Global Positioning System (GPS) data acquisition for track time purposes, is simply the ability to record multiple geographical points throughout a set duration of time. By using an advanced high performance oriented GPS unit, we are able to record a lot of points given a very short duration of time. By recording this data, the unit would then be able to map out your actual path, calculate lap times, average lap times, maximum speed and even the aforementioned in respect to specific sections of the map. For a snapshot of what the data report option has to offer, please click on the "Track Time Report" tab on the top menu bar.
Q:  Sounds complicated, what will I need for my GPS track time report?
A:  It will cost an additional $15 for data or $25 for data and video to utilize a high performance GPS unit and receive a custom track time report based on your day with us. Please note, this option is limited and based on a first come first serve basis!
Q:  What does the GPS unit look like and (2) how do I install the GPS unit to my car?
A:  Below is what our GPS units look like and how it compares to an iPhone 5 in terms of size. (2) You will be supplied with a special GPS unit suction holder to be applied to the front interior windshield. Staff is more than happy to help you secure it during the tech process.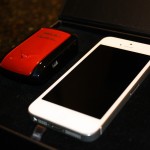 Q:  How do I use the GPS unit once I have installed it?
A:  There is simply an "On" and "Off" switch. Participants may simply switch it "On" before driving to the pit lane and may switch if off after parking their car after their lap session.
Q:  Should I be concerned about when and where I turn "On" and "Off" my GPS unit and how it might affect my data.
A:  No. Your personalized track time report will be carefully created individually and will be based on beacons. Thus, data is measured relatively and in respect to where we establish the start and end points.
Q:  Who and how will my reports be created?
A:  Every track time report will always be completed by the founder of GPS Track Time, LLC to ensure maximum quality, consistency and accountability.
Q:  Will there be live timing and data available at the event?
A:  Safety is our number one priority and therefore, it is our policy to not release any information during our events. It is simply human nature to better ourselves and GPS Track Time seeks to prevent any potential "benchmarking" provided by live timing and data.
Q:  When can I expect my data and report then?
A:  You can expect data via email within 1 to 3 days. Please allow 1 to 2 weeks for the video option.
Q:  What if I am uncomfortable with utilizing a GPS unit?  May I still participate?
A:  You are absolutely welcomed to participate without the use of a GPS unit.
Q:  Will I receive a refund if I decide to cancel my track day?
A:  You will be refunded in full if you cancel 30 or more days prior to the event. However, a $100 fee will be applied if you cancel 10 to 29 days prior to the event. No refunds will be given with 9 days or less prior to the event, missing the day completely or missing the driver's meeting.
*UPDATED Nov. 23, 2019 Jan. 14, 2023, to reflect PayPal's new refund policy: PLEASE NOTE, beginning Nov. 1, 2019, PayPal will no longer refund the transaction fee to the customer or GPS Track Time. Since 2012 to 2021, the PayPal transaction fee has been 2.9% + $0.30, however the present transaction fee is 3.49% + $0.49; this unfortunately means the maximum refunded will be your registration fee minus the PayPal transaction fee that PayPal will keep (3.49% + $0.49). GPS Track Time is sorry about this policy by PayPal!

Q:  Will my auto insurance cover me if I get into an accident?
A:   In general, auto insurance companies will not cover any accidents during high performance driving on the track. We are proud that events have been approved for track time insurance through Lockton Affinity. For more information, please click here.
Q:  Will I receive a refund if my car is unable to run and/or deemed hazardous during the event, or get into an accident?
A:   No, unfortunately a refund will not be issued for the above described scenarios.
Q:  Is a roll cage required for my car?
A:  No, a roll cage is not required. But remember, convertibles need an approved roll bar.
Special Safety and Security Policy Note:  The staff and instructors of GPS Track Time, Autobahn Country Club, Blackhawk Farms Raceway and Gingerman Raceway have the right to ban anyone from the track or facility in general if they are an immediate threat to others. Driver participants in some cases will be given a warning but will be banned without a refund if issues continue. Again, safety is our number one priority and we will do everything necessary to preserve a fun and family-oriented environment.
All rules and regulations of the Autobahn Country Club, Blackhawk Farms Raceway, Gingerman Raceway and Putnam Park Road Course will apply and be fully enforced at our events.
As always, please contact Jimmy at GPStracktime@gmail.com for any questions or concerns.