Please click the track or PayPal icons below for registration instructions.
About Our Company
Welcome to GPS Track Time, Chicagoland's newest high performance driving provider. We are pleased to host noncompetitive track time events at the Autobahn Country Club, Blackhawk Farms Raceway and our very own custom designed autocross courses. All of our events will feature the option to utilize a high performance GPS data acquisition unit that comes with a custom analysis report for about the same price as your typical track day! Please click here or on the "Track Time Report" tab above for additional information.
Again, there is absolutely no competitive aspect to our events and passing is only allowed per a point-by on dedicated straights of the track. Registration fees will include six (6) scheduled 20-minute lap sessions and there is no charge for your guests. Please know that our dedicated team has driven on over 10 circuits across the United States through numerous types of organizations. Track events are held with the support of the expert staff that knows their circuit and facilities best. Highly qualified instructors will also be available and is included in the price. Needless to say, your experience with us will be in a professional, structured and controlled environment.
A free beginner's class will also be offered to participants before the track date. Class topics will include: car dynamics (weight transfer and traction), cornering phases, ideal lines, the nature of tires/brakes and track review.
GPS Track Time is proud partners with iLL Garage, Chicagoland's premier motorsports tuning and fabrication shop. Please click here or on the "Special Offers" tab above to review exclusive track preparation services for our participants.
Read More
Featured Registered Participant
Name:
Scott
Car:
BRZ
Power Mods:
Suspension Mods:
Fortune Auto 500 series coiloverso
Show Mods:
Tires:
Kumho XS 245/40/17 on all corners on 17x9 wheels
Crew:
Shout out: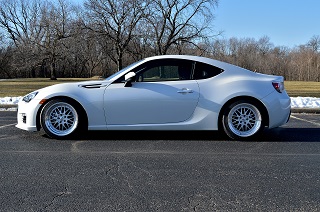 Read More